March 2017 Newsletter
Happy March! In this month's Newsletter, we are highlighting clinically relevant, interesting and fun facts on acupuncture and dry needling. Read on after the jump:
Currently, there is a shift in the guidelines by the American College of Physicians, concerning the management of lower back pain. Notably, modalities such as massage, heat, acupuncture, exercise, yoga or physical therapy are recommended as the primary approach to treat patients with low back pain lasting less than 12 weeks' duration, OVER muscle relaxants/opioids/anti-inflammatories.

A recent study conducted by neuroscientists at the University of Rochester reveals the main mechanism by which acupuncture physiologically reduces pain: inserted needles stimulated tissue cells to produce adenosine, an anti-inflammatory chemical, that was effective for up to an hour after the therapy was over.

The US Army has had a large upswing in the use of acupuncture and other forms of alternative and complementary medicine to help reduce the use of opioids to block pain in VA patients for the past few years. And not only that, celebrities are also turning to acupuncture to manage their stress and pain levels: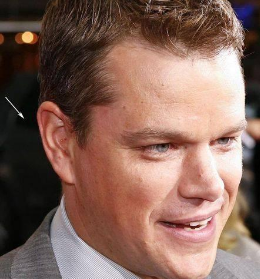 Matt Damon with ear seeds left in acupuncture to enhance and prolong treatment benefits.
All of us here at DSPT like to remain at the medical forefront to offer every opportunity and avenue to allow our clients to heal and feel their best. Mila Mintsis, LAc is skilled in providing at least 6 varieties of acupuncture, including dry needling and electro-acupuncture, as well as cupping techniques, and medical aromatherapy/herbology. Give us a call to see what we can do for you!